Voluntary work
The collaboration of volunteers from Bolivia and many corners of the world played an important and welcome role in the Fundación Pueblo from the outset. It is an expression of interpersonal solidarity and has often given important inspiration and contributions to the projects and programs of the Foundation in Bolivia. We therefore welcome in principle any request to work as a volunteer or trainee at the Fundación Pueblo.
Volunteers and trainees at the Fundación Pueblo receive no salary but rather a humanly and socially enriching task. This can be seen from the co-operation and the reports of many people of who have volunteered in the past.
In Europe, volunteers can be a great help in the dissemination of information and fundraising and can  initiate partnerships with groups and institutions that promote development projects. Anyone interested in voluntary work of this kind should first consult Günther Schulz by email.
Internship or "Weltwärts-Einsatz" in Bolivia
In Bolivia volunteering is possible in some projects,in the form of an (unpaid) internship at the Fundación Pueblo under certain conditions. These include primarily:
Sufficient time (normally at least six months) to commit to the Fundación Pueblo in Bolivia

Sufficient ability in Spanish to work with spanish speaking colleagues and audiences.

The willingness and ability to bear the costs of travel, insurance, accommodation and meals in Bolivia
The Fundación Pueblo provides qualified volunteers and interns a job in one of our offices and offers assistance in finding available accommodation.
Interested parties should contact Günther Schulz with an email, attaching a cover letter with a resume preferably written in Spanish.
Funded by the Federal Government development policy the volunteer program "Weltwärts" annually funds  some employment places for young volunteers from Europe at the Fundación Pueblo.  If you are interested in a year long commitment of this kind search for Fundación Pueblo under "employment places" on the Weltwärts website.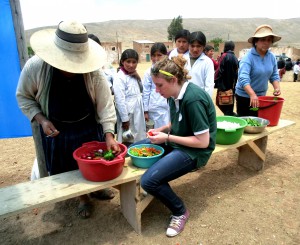 "Fundación Pueblo has given me a lot of responsibility, which has also helped me to decide what to study" Franziska Stahl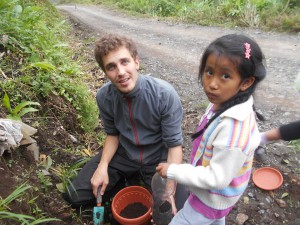 "Mein Auslandsdienst bei der Fundación Pueblo in Bolivien zählt zu den wichtigsten und prägendsten Erfahrungen meines Lebens." Lugas Egger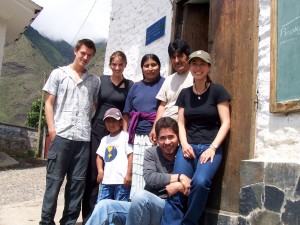 "In meinem Praktikum bei der Fundación Pueblo habe ich eine Studie zur Umsetzung von Gemeindeinvestitionen in Yanacachi gemacht. Das war ein nützlicher Beitrag für das Programm "Acceso Público" und Grundlage für meine Diplomarbeit." Nami Uepping (1. v. r.), Freiwillige 2005